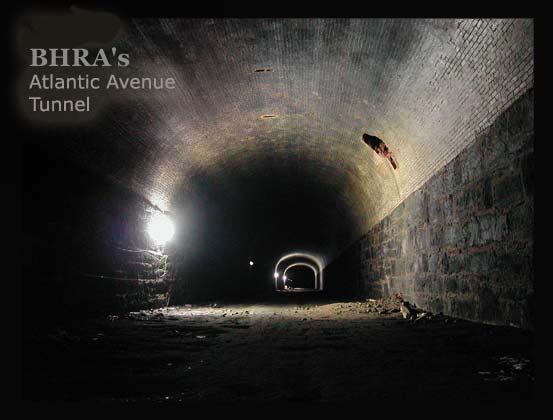 I first learned about the "Lost Tunnel" by coming across a piece of paper on a wall in Red Hook that said something along the lines of "Want to explore a lost tunnel underneath Atlantic Avenue? Call this number?" ***
Then, one day some weeks later, I was walking along Court St. towards Atlantic Avenue and saw people (who were not in uniform) crawling into a manhole, which presumably led down into the tunnel, peaking my interest even further.
While I haven't had a chance to call the number or go on a tour yet, I did come across a
recent article
on Yournabe.com which not only says there may be a DVD coming out about the tunnel soon, but also that the tunnel tour guide, Bob Diamond, thinks that there is a buried steam engine somewhere in the tunnel near Columbia Street. Whoa!
It also turns out that there is another tour of the tunnel, which runs under Atlantic between Court and Hicks, this Sunday, 1/25/08
. If you're interested in checking out a lost tunnel under Atlantic Avenue, call
718 941 3160!

In the meantime, check out the article mentioned above as well as the Brooklyn Historic Railway Association's website.

***This isn't the real wording of the sing, but is just based on my memory of it many months later

Picture above from the BHRA website